About Marilyn Markham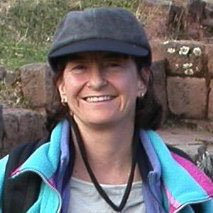 In early childhood, Marilyn Markham knew she wanted to help others and make a difference. At the age of five, she proudly wore the nurse's cap and cape she was given for Christmas. She also recognized a deep connection with Nature and had a way of knowing things about people and situations. As Marilyn grew toward adolescence, she began to doubt the things she felt she knew instinctively about her world and stilled the inner voice that wanted to lead her in a direction she was not yet confident enough to go. By her late teens she had chosen to believe only what was in her three-dimensional reality.
Marilyn never did lose her love of people or her desire to help others and gained an enormous satisfaction working as a registered nurse for many years. It allowed her numerous avenues to engage with a wide variety of people in diverse situations. After 13 years, she realized nursing was no longer her only calling. Something mysterious stirred as she attempted to find something that would again bring her the same level of joy and satisfaction.
Then in 1995 a personal crisis left Marilyn with the need to learn a new way of navigating through life. She became a seeker. Her first spiritual mentor, Ellen Solart, taught her the most important lesson — how to trust her inner voice. She began to meditate and learn about energy. Her inward journey allowed her to become acquainted with spiritual guides and angels and the mutual purpose she shares with them. During her explorations, she learned to tune into many different energies and she eventually gave intuitive readings for others.
Listening to her heart became natural for Marilyn, so when she first heard of Peruvian mystic, Don Américo Yábar, she knew it was the next step she sought. Marilyn began working with Américo in 1997, first in Utah and then later the same year, she traveled to Perú to work with him in his homeland. She deeply resonated with the beauty and simplicity in his message of Cosmic Love and felt as if she were hearing what her heart already knew. She felt as if she had come home.
In the spring of 1998, Marilyn wrote her first Dearest Waiki letter to explain to Américo her understanding of part of her life purpose and her place in his work. Thus, their energetic collaboration for Dearest Waiki: Love Letters to an Andean Mystic was born. Through the medium of stories, Marilyn shares how living a life of Love and intent has changed her life. She continues to listen to the Divine voice we all share. Américo now calls Marilyn a chakaruna — a feeling bridge between cultures. (You may read reviews and order it from the Dearest Waiki page.)